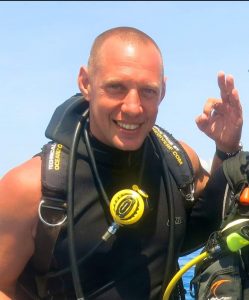 Laurent has a passion for the aquatic  world and all forms of diving.
He has worked several years in the Dive Industry in many Asian countries and ended up opening a dive operation in the Philippines.
He worked there for 6 years before coming back to Switzerland.
He still teaches Freediving, Recreational Diving and Technical Diving regularly in lakes and the Mediterranean sea.
Pure Motivation offers the following courses :
Basic Freediver and Freediver
Recreational Diving : All courses from Discovery Dive to Divemaster, and all PADI specialties
Technical Diving : TDI Déco procédures, Advanced Nitrox and Extended Range
We organise every year a Freediving and Yoga course in the French Calanques. (more details in Events)