Yoga is ideal to reconnect with yourself, to be calm and to find peace of mind.
A regular practice will enable you to keep a supple and tonic body and will improve your strength and mobility.
We are offering private courses, corporate courses, courses for children and courses for athlets.
Hatha Yoga

Hatha yoga is the traditional and most ancient practice and is the base of all other styles. It is a science that has evolved over hundreds of years and globaly deals with human well being on physical, moral, mental and spiritual levels.
Anyone can practice and no specific skills are required.
Yoga brings many immediate and long term physical benefits. Stretching helps release accumulated tensions in the body and relieves back pain. The ensuing suppleness will help you gain in mobility and the numerous balance and strength postures will tone your body and reinforce muscles and bones.
It is ideal to prevent sickness, take care of your body in general and develop peace of mind and a firm will.
5 points of yoga :
Yoga postures (Asanas)
Proper breathing (Pranayamas)
Proper relaxation  (Savasana)
Healthy nutrition
Meditation and positive thinking
Our experience
Discovering Yoga is a life motive.
We started practicing in India and in the Himalayas 20 years ago and studied at the Shanti School of Yoga in Kochi.
Our experience is rich of several years of teaching in Asia and Europe.
Our students have various level, beginners as well as advanced practitioners and professional athlets.
Yoga for athletes
For several years, we have been providing Yoga courses for athletes in different disciplines.
Sport practiced intensively over a long period of time is tiring for the body and for the mind due to the stress of competitions. Sport tensions, chocs and strains induce a loss of flexibility and mobility and even create pain.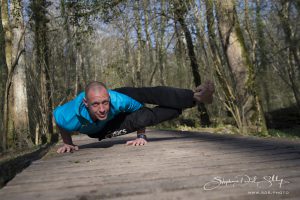 The practice of Yoga in addition to sport helps to release tensions and pain in the body while stretching muscles and tendons. The gain of balance, suppleness and mobility will help optimise the performances of the practitioners. We are offering dynamic Yoga courses that will tone and reinforce the body and help you get strong support. Breathing and relaxation techniques help to deal with stress and to have a restorative sleep.
For professional athletes, we are offering specific courses, adapted in collaboration with their coaches, according to the muscles they solicitate, their different periods of training, competitions and the goals they have to reach.
Yoga for kids

Yoga allows kids to feel good in their bodies, it teaches them to deal with emotions, improves concentration and stimulates creativity.
While having fun, the kids discover, get to learn how to respect and to listen to their bodies. Through different positions they will improve their suppleness, coordination, balance and strength, they will develop confidence and get to know themselves better.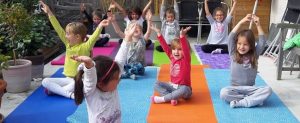 The courses are respectful of the child body and rythm.
Everyday kids have to compell with the desires of adults, in this course, the teacher adapts to them.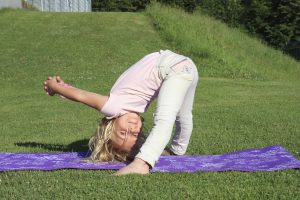 The sessions include a physical part where postures are presented in a playful way while imitating animals for example. We then explore several ways of awakening their senses , play with the breath, use visualisation techniques , express emotions and learn relaxation techniques.
Corporate courses

Pure Motivation specializes in Corporate Yoga.
Why Corporate courses ?
Many people are victims of stress that keeps increasing in our society: anxiety, sickness, burn-out are becoming current words and issues.
We are constantly lacking time and finding it difficult to take a break and to take care of ourselves.
Practicing Yoga  at work helps reduce stress, reinforces the immune system, brings peace and harmony and helps to be grounded and centered, allowing physical, mental and emotional stability.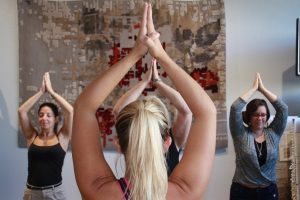 Required equipment :
It only requires a space to practice: it can be an office, a cafeteria, a meeting room or even a hall.
It is possible to do a course on a mat or on a chair to avoid sweating and then, no need to get changed or to take a shower afterwards. It depends on your wishes and possibilities.
Benefits of Corporate Yoga :
Practicing at work improves employees weel-being, it offers a regenerating break during the day and saves a lot of time. No more time loss and stress due to traffic.
-Improves health and wellness
-Diminishes stress and anxiety
-Releases muscle tensions
-Improves attention
-Reinforces immune system
-Team building
Our different programs :
-Weekly Yoga courses
-Yoga on a chair
-Yoga on a mat
-Meditation
-Relaxation
-Health and Nutrition workshops
-Stress Management workshop
-Cross-training